Reimagining Creator Compensation
How the rapid acceleration of new revenue streams is unleashing radical creativity.
This time last year, I gave a talk at the APG event 'Thinking Around Corners' on how business models could prove to be the greatest single factor for leapfrog innovation, above and beyond our current (often limited) focus on iterative improvements to existing products and services.
I was inspired by the multiple revenue stream experiments that were being trialled and scaled in China within the entertainment space and which had been chugging along with great success for years, without us really paying attention.
What's been developing from these experiments is not just new ways to make money, but in some cases, entirely reimagined products, services and ecosystems, dreamt up as a result of watching and learning from customer behaviour, driven by new monetisation methods.
There are a plethora of examples in China, but below are two…
When it comes to books, they're often written in (and monetised by) consecutive instalments online; enabling authors to interact directly with readers in order to collaborate on where the story may go next. Some of these 'book's can involve thousands upon thousands of chapters with one approximately 48 times the length of the entire Harry Potter series (and still going).
When it comes to music, fans can show their appreciation (and infatuation) with artists through a myriad of social monetisation products, such as time limited access that's tiered depending on the level of interaction they want; from shout outs, to private gigs, Q&A's and virtual merchandise. They can also show their commitment through 'leaderboards' which reward them with points the more they listen and the more they spend; one music fan purchased her favourite artists album 400 times, just so she could beat the highest score, never mind the other peripheral elements she spent her money on.
To dive into more examples, you can watch the full talk here, in which I also cover how the same dynamics are affecting the realms of podcasting and video.
---
When I shared this back in May 2019, I was touting these cases as critical learning tools for the Western world, a way for us to rethink our innovation pipelines, to explore new ways to compensate creators and to let our imaginations run wild with the possibilities. I thought we'd follow a (probably slow moving) roadmap in that general direction over time.
However, silly me, I hadn't factored in a global pandemic that would upend everything we know and force businesses in almost every category to fast track their experimental planning from what they could accomplish in a 10 year window, to what they could achieve in a 10 day panic.
But here we are and my how things are changing.
In a matter of weeks, the one-trick-pony monetisation models we've heavily relied upon for musicians, entertainers and creators have come crashing down and rapid reinvention is the name of the game in order to stand a hope in hell of economic survival.
Luckily, the appetite for embracing this reinvention has gone from 'yeah maybe later' to 'I'll try anything'. And this is where truly innovative ideas are born; that sweet spot between urgency and necessity.
So, let's check out some of the ways that creators of all kinds are dabbling for dollars.
NB - many of these areas were already trends in play, with Covid-19 acting as an accelerant
---
$$$ - ACCESS
Live-streamed gigs, DJ sets, comedy nights and more were some of the first isolation entertainment forays to burst forth from our screens, into our homes; with many using existing social platforms and software to do so - from Instagram Live to Zoom.
But as neither of these platforms have the option of paywalls (yet), they proved almost impossible to monetise in any way.
After her tour was torpedoed, Erykah Badu decided to rapidly rethink her options; she wanted to keep performing for her fans, to support herself and find a way to keep paying her band and crew. But as none of the readily available technologies allowed her to realise her vision or monetise effectively, she set out to build her own live-streaming company, which she accomplished in a matter of days to create her 'Quarantine Concert Series'.
A "back-end" livestream company was hired, alongside a paywall service; she figured out how to broadcast from her home; gathered musicians, engineers and technicians, and beamed out to the world. The series began with a three-hour concert dubbed "Apocalypse One" on March 23 with two more that followed in quick succession. For each show, she charged a minimal fee with the first just $1 to access.
"Apocalypse Two was $2, and Apocalypse Three was $3, and as I progress my productions will get more elaborate as well. I go by what the people want — they want to support me and they want me to charge more because they say it's worth more. It's like in 1997 when I created my touring company, I had to learn from scratch what everybody did, and I have to learn all over again. I'm really enjoying the ride and the education."
To date, the shows have drawn a combined audience of 100,000.
Update: In the last week, Facebook have taken notice of this and have announced that they'll be offering paywalls for artists and creators for their live-streams on the platform in order to help them better monetise their content moving forward.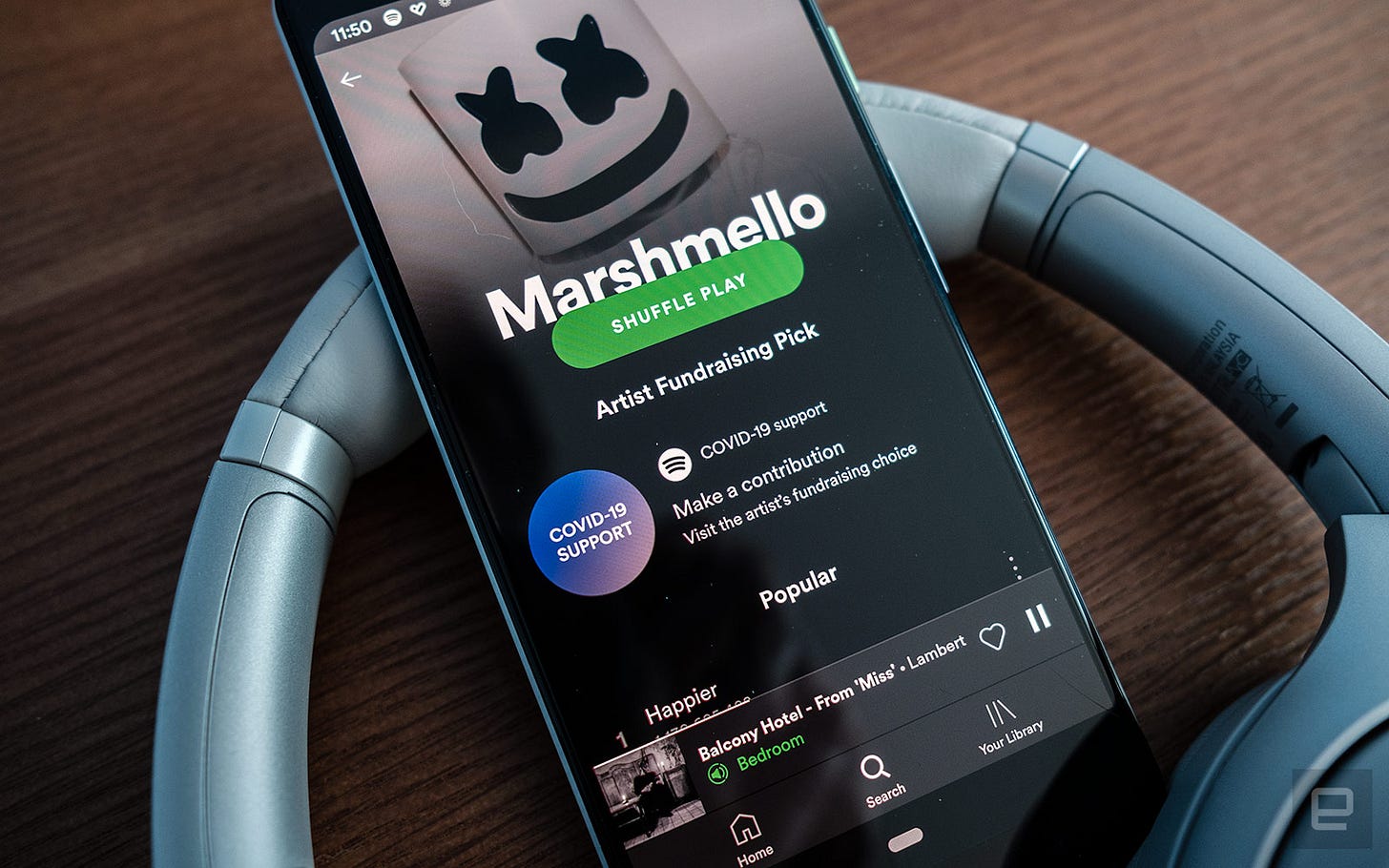 $$$ - TIPPING
In a similar vein and inspired by the common practice of virtual tipping for creators in China which has been in play since around 2013, Spotify have released their 'Artist Fundraising Pack', which allows artists to highlight a fundraising destination on their profile pages allowing them to raise money to support themselves, their bands and their crews or to fundraise for charity partners via Cash App, GoFundMe, and PayPal.me.
Elsewhere, SoundCloud is building on its existing tipping capabilities – a partnership with Twitch, announced in March, allows creators to monetise live-streamed concerts – by allowing artists to add 'support links' to their profile pages.
$$$ - SUBSCRIPTIONS
Over 50,000 creators signed up to Patreon in the first 3 weeks of March and those numbers continue to swell. The funding platform helps creators to raise money directly from fans, by allowing them to set up profiles where they can share (and price) multi-tiered offerings, from basic content, to private groups, one-to-one chats, exclusive access and much more.
One example of a creator who's making Patreon work for her is Twitch cosplay streamer, Amouranth, who maintains close to 1,000 subscribers on her profile. For those subscribers, she provides exclusive photographs of herself in costume for between $20 and $850 a month. For the very highest subscription tier, patrons unlock the ability to text message Amouranth directly at any time, whereas lower tiers are restricted to Discord or group Hangouts.
$$$ - MICROTRANSACTIONS
Who hasn't heard of the Travis Scott x Fortnite extravaganza, which saw the powerhouse rapper bring his Astronomical tour to the gaming platform in lieu of an IRL option. On April 23rd, the 10 minute virtual experience debuted to a reported 12million+ gamers and was repeated four more times to a total audience of 27.7 million.
The psychedelic event wasn't ticketed as per a usual tour, instead Fortnite and Travis explored alternative ways to monetise through microtransactions.
Skins, weapons and moves are all big deals within the platform, bought using 'V-Bucks', the official currency. They provide ways for the gamers to personalise their avatars and display a sense of status and character.
For the Astronomical event, a bundle was created that included two skins, two 'back-bling' decorations, a separate Astronomical Gear set with a Diamond Jack harvesting tool, a Goosebumps wrap to customise weapons, and a Head Banger emote (dance move) all sold for different amounts of V-Bucks. In real money, that works out at $33.30 for both sets.
Fornite haven't revealed the sales and it's unlikely that they will because they like to keep this stuff close to their chests, but if just 1% of that first concert's audience bought the Astronomical Bundle, that'd be $2.7m of gross revenues. If 10% bought just the Travis Scott skin individually (1,500 V-Bucks) that'd be nearly $18.5m.
Travis's previous IRL tour, Astroworld: Wish You Were Here (complete with a Ferris wheel and functioning roller coaster) grossed more than $65 million. So whilst it's not totally comparable to what he may have made, the investment/profit ratio for the Fortnite tour is pretty amazing and certainly something that would have made a lot of other artists sit up and take notice.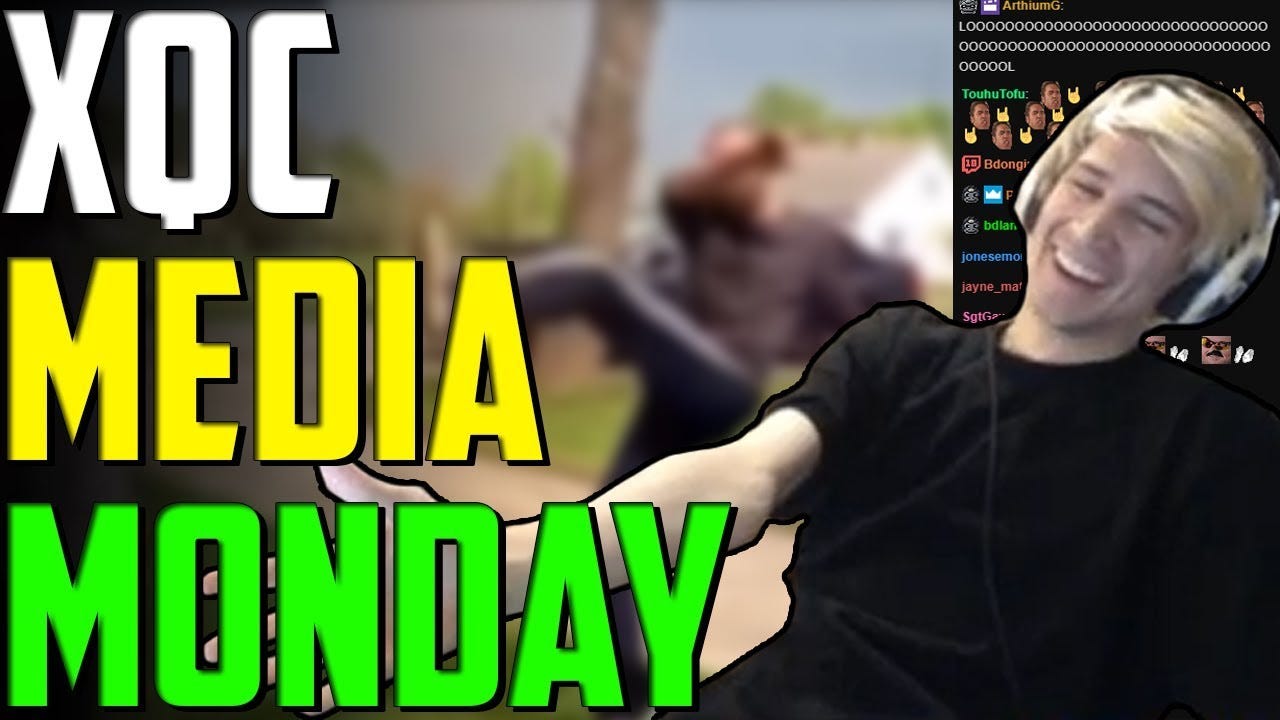 $$$ - STATUS
Loneliness and disconnection are proving to be significant side effects of this pandemic; at a time when we can't be physically together, so more and more of us are looking for that moment of recognition and connection online.
And whilst this is happening within games such as Animal Crossing, which has become the new virtual hangout du jour, it's also being monetised in an entirely different way by streamers.
French-Canadian, Félix "xQc" Lengyel is the no.1 'Just Chatting' streamer on Twitch, responsible for 5.4 million hours of viewership in Q4 2019 alone. He made a name for himself playing for the Dallas Fuel in the Overwatch League for part of the inaugural season, before being released due to repeated controversy. And these days, he spends his time watching videos alongside his fans and 'chatting' about them.
One of his most popular weekly events is "Media Share Mondays" where he can make roughly $1,188 an hour. For the entire day, he'll watch YouTube videos hand-selected by his fans (2.3 million of them), who pay 33 cents per second to watch his reactions to their favourite videos.
As a role model and tastemaker for his audience, he's effectively selling a feeling of social connection and validation, they feel like they're right there with him, laughing at a shared joke or partaking in a common experience.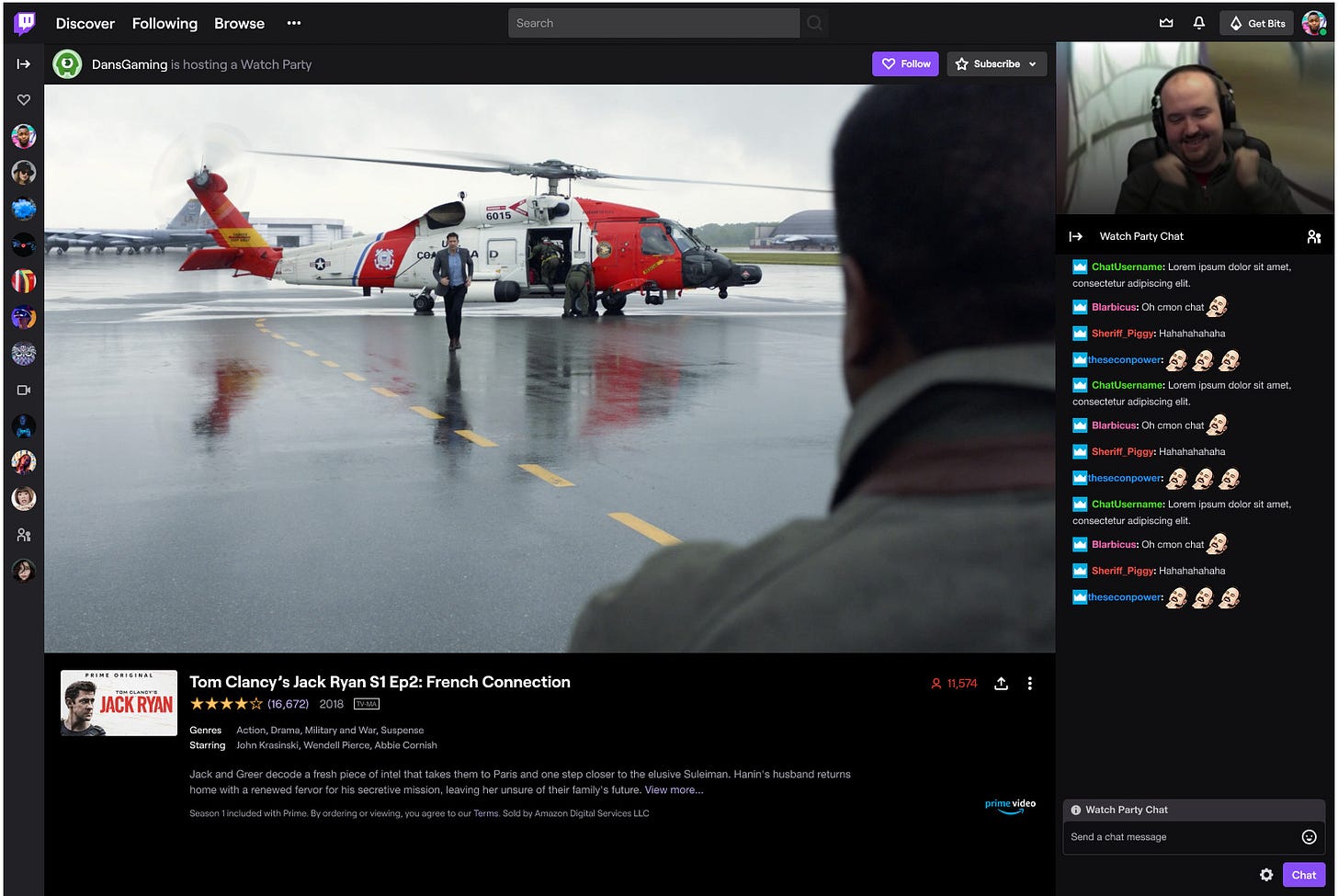 $$$ - SPONSORSHIPS
Never one to miss out on a rising trend and hell bent on their continued domination of all of the things, Amazon too have noticed the popularity of Twitch streaming and unsurprisingly decided they want in, in order to push Prime Video (nb - Twitch is a subsidiary of Amazon).
Top Twitch live-streamers can now host "watch parties" to provide running commentary alongside a selection of 75 movies and TV shows that were "requested by the community," including Amazon originals like Jack Ryan, Hunters and Troop Zero as well as community favourites like Star Trek, Survivor and Psych.
Streamers and viewers must have a Prime account to be able to join in and whilst some of the top streamers are being remunerated for this as a promotional vehicle, others are just happy to leverage Amazon content to help them build their own followings and their ability to monetise them in other ways.
Watch Parties will be rolled out worldwide over the coming months.
$$$ - COACHING
When the streamers aren't streaming, they can also be found coaching via platforms such as Fiverr, which saw a 43% jump in the number of video game coaching sessions booked between January and March.
A few hours a week, Taylor Heim, an aspiring eSports player, hops online and coaches fellow video game enthusiasts on how to improve their skills at Overwatch, a multiplayer shooting competition. Using video calls, he watches them compete live or in replays of earlier matches and for a fee, he analyses their mistakes and gives them tips on how to get better.
In March, when the pandemic hit, requests for Heim's services suddenly doubled. He bumped up his price to $25 an hour from $15 and still found his hours fully booked. He now has all the clients he can handle.
But it's not only gaming, other streamers are offering coaching on subjects ranging from fitness to photography to personal finance.
$$$ - SHOUT OUTS
If you haven't heard of Cameo, then you've been living under a rock; it's the latest celebrity money spinner than everyone from the Z-list to the A-List are scrambling to, in order to supplement their incomes or raise funds for charities. It's their version of the gig economy.
In a nutshell, it works by fans asking celebrities on the platform for a personalised shout out - a birthday message, a marriage proposal, an inside joke. Costs for these range from a few dollars to a few thousand depending on who you choose; Sarah Jessica Parker is $300 a pop while Snoop Dogg will set you back $750.
And why are they flocking in their droves?
"The reason is obvious: While many entertainers—like the rest of us—are grappling with a loss of income, never in the modern history of the United States has the celebrity class been so collectively and desperately bored."
But the Cameo model isn't just for out of work actors, sitting at home twiddling their thumbs.
Back in the UK, Encore Musicians, a UK-based marketplace that connects event planners with artists and bands, has introduced 'Music Messages' for its locked-down customers, enabling them to send personalised musical notes to their loved ones. Recipients of the videos (which cost from £15, with £2.50 going to the NHS) have the option to add a tip, with many contributing up to £50 per video to the musicians recording them.
---
These are just a few examples of how a decade of change in revenue stream experimentation is being concentrated into several weeks, as we grapple with a new way to monetise old and (now broken) models.
The bottom line is that we should have been doing this years ago, shifting our reliance away from the ubiquitous ad-funded approach that has relentlessly driven the quality of our content into the ground as the dollar value of more and more eyeballs won out over anything else, reducing our creativity to 'shit we throw at a wall to see what sticks'.
And whilst where we are now is messy, scary and dare I say it, 'uncertain', it's also an opportune moment to reinvent and reassess.
There's an invigorating energy and a determined, scrappy, 'why the hell not?' attitude that's pushing us to explore exciting new opportunities at a faster pace than we ever thought possible.
This is good news, especially for content and creators.
Because content costs money and when we enable greater monetisation, we get better content. That's the math.
So, global pandemic aside, I can't wait to see what comes next.